Win a voucher for the most alternative café in Ireland!
In the middle of the tourist-filled busy Killarney, you might end up losing your way in one of the many alleyways and suddenly find yourself on a nearly-empty car park. All along the left hand side, a range of the most peculiar-looking garden furniture is neatly lined up against walls or parking-spaces.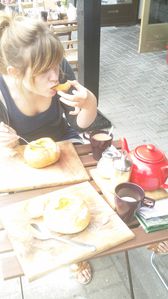 Welcome to the café, which is so alternative, it doesn't have a name! This place is a true oasis for everybody, who loves good food and excellent service. You are able to choose between a great variety of delicious organic food. For example pea-soup in a bread-bowl or proper tomato-mozerella salad! The staff is very outgoing and is made up entirely by good-looking men. Which makes the whole place seem like a "Hooters" for women. The best thing of all: You can pay as much as you like!
So to anybody who is planning to go on holiday to Ireland in the next few months, I can only advise to not miss this great experience! As a matter of fact, benebon is giving away vouchers to any five people, who can answer this question: What is the name of the café?
Just send your answer to sundayshoes@hotmail.de! Until then...good luck!